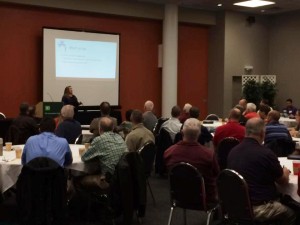 The South Carolina Society of Professional Engineers hosted the annual Fall Symposium on Nov. 18, 2015 in Greenville, SC and again on Nov. 19, 2015 in North Charleston, SC; both drew record numbers of participants.
The Fall Symposium continues to grow each year, as engineers see the benefit of fair priced PDHs and not having to travel too far to get them. This year, SCSPE chose the topic of Project Management for attendees to partake.
The Symposium was led by Mary Graves, PMP, who is educated as an electrical engineer and has 25 year experience in military electronic systems. Graves received her master's degree in Project Management from The Citadel, and has a passion for Project Management. She uses her background in engineering, her passion for project management, and her experience from SC FIRST LEGO League to lead a hands-on overview of project management. Attendees were able to earn 8 Professional Development Hours while learning great project management techniques.
The Fall Symposium grew to 76 attendees in Greenville and 46 attendees in Charleston. Educational opportunities like this helps SCSPE fulfill its mission as well as provide affordable PDHs to members and non-members. Plan on attending next year's fall symposium in November, 2016.