SCSPE Job listings is a service SCSPE provides for engineers in South Carolina to list current job openings. Below are current job openings for Licensed Professional Engineers, as well as other engineers and technical professionals.
The ads are updated monthly so this page will change as new job information is obtained. Check back often for new opportunities!!
Please contact Adam Jones at SCSPE Headquarters for cost information or to place an ad.
SCSPE Headquarters: Phone: (803) 771-4271 or email.
---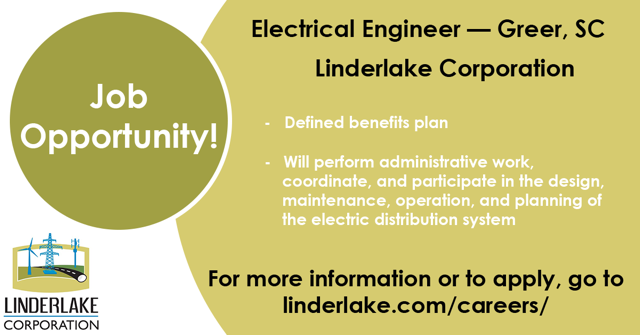 View full job description: Click Here.
---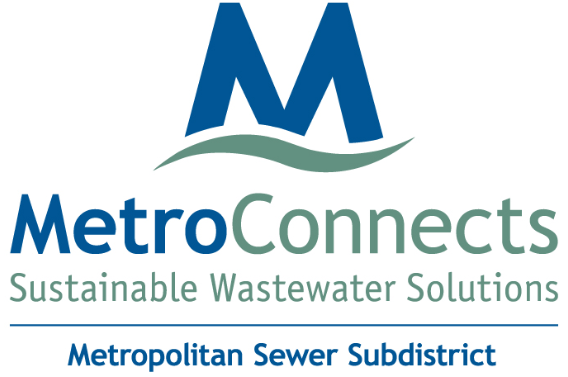 MetroConnects (Metro) is a special purpose district, governed by a seven-member Commission that operates and maintains approximately 1,500 miles of sanitary sewer mains and 23 sewer pump stations within Greenville County, South Carolina. Metro is seeking a successful candidate to fill the available full-time Project Manager II. The Project Manager II position is responsible for the overall management and quality control of multiple capital projects simultaneously for the organization with minimal supervision. This position reports to the Capital Program Manager.
Specific Duties and Responsibilities
Minimum Qualifications
Bachelor's degree in civil engineering or related field with eight (8) years' experience in wastewater collection system design, construction, operations and maintenance, and project management.
Currently licensed Professional Engineer (PE) by the State of South Carolina or can obtain it within two (2) years of hire.
Must possess a valid South Carolina driver's license.
Excellent attention to detail and sense of urgency, ability to prioritize with an emphasis on quality and accuracy of work.
Strong interpersonal, supervisory, and customer service skills required.
Exceptional analytical and problem-solving abilities.
Ability to work and interact with departments throughout the organization.
Beneficial Skills and Experience
Project Management Professional (PMP)
Master's degree
Strong working knowledge of AutoCAD, GIS, Cityworks, I/I, MACP, PACP, LACP, and construction administration.
Compensation
Salary is negotiable based on experience. Metro offers a competitive benefits package including SC Retirement and comprehensive health, dental and vision insurance. No relocation assistance is provided. A background check and drug screening are a condition of employment. Metro also conducts random drug screening during employment.
Submittals
Resumes may be mailed or dropped off at MetroConnects, 120 Augusta Arbor Way, Greenville, SC 29605 Attn: Human Resources; or emailed to [email protected]. Please provide references. For additional information, please call 864-277-4442.
Metro is an Equal Opportunity Employer.
---
Structural Engineer (Remote)
Date Posted: 06/26/2023
Salary: $60 – $80 / per hour
Status/Hours: Contract, Contract for Hire/ FT Hours
Number of positions: 6 – 8
PL Staffing is seeking self-driven Structural Engineers to help our client build tilt-up construction projects in high demand! Successful candidates' expertise will be necessary in every stage, from the design phase to the construction and inspection stages. Candidates should also have the ability to do both design and draw/CAD. Experience with Revit and 3D modeling software is preferred. Individuals should have a broad range of skills and expertise, combining a solid educational background, relevant experience, and strong problem-solving abilities. Production experience in industrial manufacturing facilities design is a must.
Reasonable accommodations may be made to enable individuals with disabilities to perform the essential functions.
REQUIRED QUALIFICATIONS:
Experience with Tilt-Up Construction, Knowledge of Building Codes and Standards (American Concrete Institute (ACI) and the International Code Council (ICC), , Understanding of Load Analysis, Proficiency in Design and Analysis Software (AutoCAD, Revit, RISA-3D, ETABS, or SAP2000), Material Expertise (Concrete mix design, curing, and behavior under different loading and environmental conditions).

PREFERRED QUALIFICATIONS:
Professional Engineers (PE) license, Specific PE license in Structural Engineering (SE), Licensed and Experience in South Carolina

TYPICAL JOB DUTIES & RESPONSIBILITIES:
Perform engineering calculations and details for all products and connections – Attend project meetings and may lead coordination meetings- Resolve engineering design issues independently- Check engineering design calculations and details of others – Monitor production processes – Evaluate design cost as compared to estimate and take appropriate action – Review contract documents to be familiar with project requirements- Write and review requests for information – Assist others with resolving engineering design issues
To apply, please forward you resume to [email protected] or call 888-269-69HR(47)
PL Staffing is an Equal Opportunity Employer.
---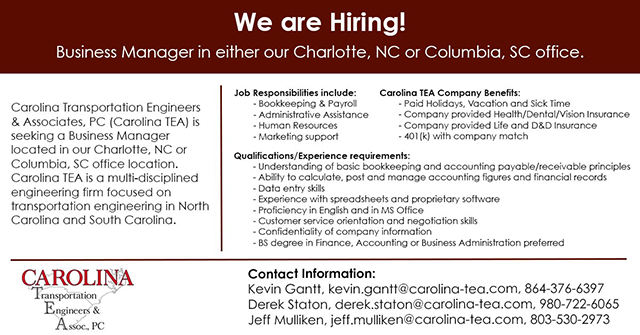 Carolina TEA is hiring a Business Manager in their Charlotte, NC or Columbia, SC office! For more information or to apply, contact Kevin Gantt ([email protected], 864-376-6397), Derek Staton ([email protected], 980-722-6065), and Jeff Mulliken ([email protected], 803-530-2973).
---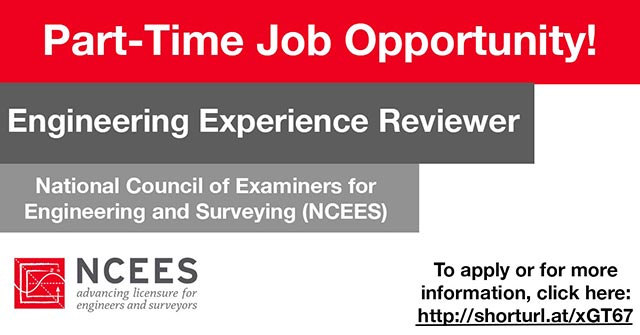 JOB TITLE: Engineering Experience Reviewer
JOB STATUS: Remote Part-Time Position
EMPLOYER: NCEES
JOB SUMMARY:
NCEES is looking for an Engineering Experience Reviewer for its records program application process.
An NCEES record is a verified compilation of information an applicant is required to submit to a state licensing board as part of the licensure application process. As an experience reviewer, you'll be responsible for reviews of work experience entries on records applications to ensure that the entries describe relevant, progressive engineering work that meets the requirements of most states. You will offer feedback to licensees on the information they provide about their work experience. This is a remote part-time position that offers flexible hours. Applicants must be a resident of South Carolina.
View full job description: Click Here.
---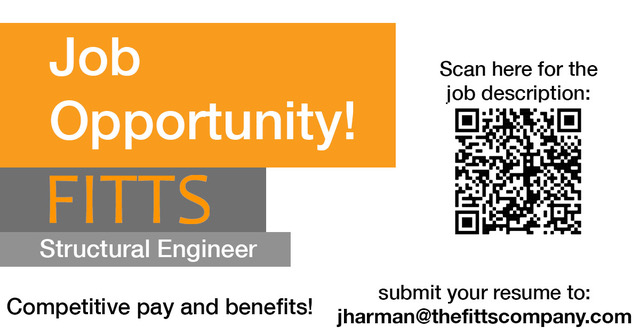 JOB TITLE: Structural Engineer
JOB STATUS: Full-Time Position
EMPLOYER: Fitts Structural Engineer
JOB SUMMARY:
Our company is looking for a Structural Engineer, that is a licensed PE, to play a vital role in the advancement of our company. The successful candidate for this position will be required to work independently and as part of a team, and must be extremely detail-oriented. He or she should also able to design structures that meet all municipal and government standards. We're looking for individuals who will take pride in their work, have extensive experience with SolidWorks or Solid Edge design software, and who understand how to optimize structures for minimal cost.
View full job description: Click Here.
Submit resume to [email protected]
---
Town of Hilton Head Island, SC
JOB TITLE: Building Official
JOB STATUS: Full-Time Position
EMPLOYER: Town of Hilton Head, SC
JOB SUMMARY:
Currently, we are advertising for a Building Official to direct the operations of the Building Division. Ensures compliance, interpretation, and enforcement all Local, State and Federal; building, plumbing electrical, mechanical, energy, fire, ADA and residential codes. Provides supervision to assigned staff.
View full job description: Click Here.
This position is exempt (not eligible for overtime) and is a salary grade 116 . The Building Official reports to the Development Services Manager. Interested employees and external applicants should apply by completing the application available on our website www.recruitingsite.com/csbsites/HHI/careers.asp no later than 4/22/2022. The advertised starting range for external candidates is $73,834 – $94,138 (DOQ).
---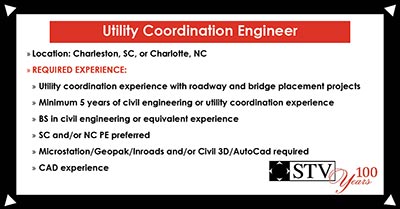 STV is looking for a Utility Coordination Engineer for either our Charlotte, NC or Charleston, SC office. This position requires utility coordination experience for roadway and bridge replacement projects. It is preferred that the experience is with either NCDOT, SCDOT, and/or a similar agency. This position would preferably be someone who has knowledge of the entire utility coordination process from design through construction. It entails meeting with multiple utilities, identifying potential utility conflicts due to roadway/bridge improvements, resolving those conflicts, commenting on schedule, and summarizing these findings to the client. Knowledge of construction methods for both the utilities as well as the infrastructure contractor is a benefit. This person will be responsible for multiple projects statewide. They will need to be self-motivated, willing to travel (25%), and can manage schedule and budgets.
Required Experience
A minimum of 5 years of civil engineering or utility coordination experience.
BS in Civil Engineering or equivalent experience
NC and/or SC PE preferred
Microstation/Geopak/Inroads and/or Civil 3D/AutoCad required
This position requires CAD experience.
Apply here: STV Careers – Utility Coordination Engineering Technician (jobvite.com)
STV is an award winning national leader consistently ranking among the country's top companies in the design and planning of infrastructure and transportation systems. More than 100 years old, the firm provides comprehensive architectural, engineering, planning, environmental, and construction management services for public and private sector clients. Our success is the direct result of our employees' commitment to innovation and quality across all 40 offices and over 2500 people nationwide
---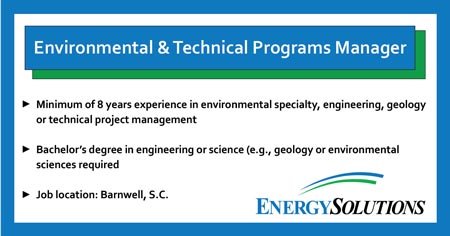 JOB TITLE: Environmental & Technical Programs Manager
JOB STATUS: Full-Time Position
EMPLOYER: Energy Solutions
JOB SUMMARY:
Oversees technical and environmental projects for the Barnwell Disposal Facility (BDF), including BDF engineering and construction projects and environmental program projects. Oversees design and construction of disposal trench and vault systems, and related facilities to ensure on-going operations at the BDF. Evaluates the air, water and land systems data to determine the environmental impact of operations and directs the implementation of appropriate corrective action if necessary.
Responsible for the selection, oversight and direction of consultants and contractors involved with the implementation of the BDF environmental program, site engineering, and site construction activities.
Leads the planning and implementation of BDF engineering and construction projects.
Evaluates the air, water and land systems data to determine the environmental impact of operations and guides implementation of appropriate corrective action if necessary.
---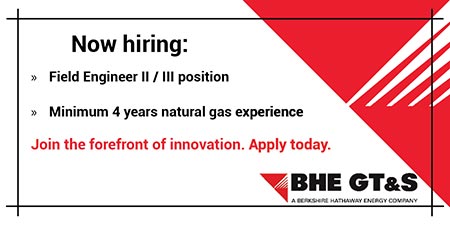 JOB TITLE: Field Engineer II/III
JOB STATUS: Full-Time Position
EMPLOYER: BHE GT&S
JOB SUMMARY:
As a stand-alone business within the Berkshire Hathaway Energy group, BHE GT&S, provides safe, reliable natural gas production, delivery, and storage. Our 1650 employees in 12 states take pride in creating a safe, rewarding work environment.
In your role as a Field Engineer II/III (considering your skills and years of experience), you will develop designs, plans, schedules, cost estimates, and agreements for proposed pipeline and compressor station installation, replacement, and remediation including structures and ancillary equipment required for new facilities or modifications of existing facilities. Read the full job description and apply online.
Your responsibilities will include:
Providing leadership and accountability for budgeting, design, and construction support of capital projects
Utilizing, maintaining and developing specifications related to field engineering functions (design and construction, materials, repairs, etc.)
Preparing requisitions for materials & equipment, design services, and construction services
Evaluating proposals/bids and making recommendations for awards of materials or services
Administering and managing the engineering components of service agreements, design contracts, and construction contracts
Supporting permit applications and environmental clearances
Ensuring accuracy of information for projects, and compliance with codes, laws, and company policies
Ensuring accuracy and complete of materials, test procedures, welding procedures, and other applicable engineering duties for Operations and Project Teams
Reviewing potential and actual class location changes against pipe design and historical test data to confirm Maximum Allowable Operating Pressures per Code of Federal Regulations Title 49, Parts 192, and proposing recommendations for remediation, if required
Reviewing changes in pipe location to assess any additional remedial concerns
Relocation assistance will be provided so you can join our team in our offices in Columbia, SC. Successful candidates will have at least 4 years of experience in the Natural Gas Industry and have knowledge of applicable pipeline safety regulations such as PHMSA and DOT along with the ability to apply complex engineering principles, utilize engineering software programs, and have effective decision making and communication skills.
All applicants must apply online. BHE GT&S is an equal opportunity employer that values diversity in the workplace. Please note: when applying to a BHE GT&S position, some correspondence and documentation throughout the application and selection process will come from, or reference, Dominion Energy. If you have any questions throughout the BHE GT&S application process, please reach out to [email protected]
---


JOB TITLE: Senior Director, Water Resources
JOB STATUS: Full-Time Position
EMPLOYER: City of Savannah, GA – Jobs
JOB SUMMARY:
The City of Savannah is seeking a visionary Water Resources Director to lead an innovative, customer service-oriented, and forward-thinking Water Resources Department. The next director will be outstanding in project management and lead with a customer service focus that effectively coordinates with all internal departments in the City, external stakeholders, and will work to meet City goals. The City of Savannah operates under a Council/City Manager form of government with a budget of $414.5M, AA+ bond ratings and over 2400 employees working across 26 departments.
Job Listing…
---
JOB TITLE: City Staff Engineer
JOB STATUS: Full-Time Position
EMPLOYER: City of Newnan, GA – Jobs
JOB SUMMARY:
The City of Newnan is seeking a new City Staff Engineer. Located 35 miles south of Atlanta, the City of Newnan is a growing, progressive community of more than 40,000 residents who hold a deep love for the city's rich history and the surrounding Coweta county area. Since its beginnings in 1828, Newnan has experienced steady and prosperous growth. Today, the city stands as a planned center of growth that blends beautiful residential areas with a solid business community. The community is the ideal environment for living and working, offering state-of-the-art city and public safety services as well as a public school system that is ranked "excellent" by the Georgia Department of Education. Additionally, community parks offer biking, swimming, team sports, walking paths, and golfing opportunities for everyone.
Job Listing…
---
JOB TITLE: Structural Engineer
JOB STATUS: Full-Time Position
EMPLOYER: McCormick Taylor – Jobs
JOB SUMMARY:
McCormick Taylor is seeking a Structural Engineer to join our Columbia, SC or Charleston, SC office location. Position requires an established career in Structural Engineering specific to AASHTO design criteria and DOT project requirements. Qualified candidates should have a diversified knowledge of engineering principles and practices in broad areas related to bridge design; geotechnical/foundation design, substructure design, superstructure design, and retaining and noise walls.
Job Listing…
---
JOB TITLE: County Engineer
JOB STATUS: Full-Time Position
EMPLOYER: GREENWOOD COUNTY – Jobs
JOB SUMMARY:
GREENWOOD COUNTY is currently recruiting for a highly qualified County Engineer to join their leadership team. The ideal candidate, under limited supervision, will supervise, plan and direct the activities of the Engineering Department in order to ensure the proper management of engineering projects to meet the needs and growth of Greenwood County and its municipalities. The County Engineer may also play a prominent role in establishing design criteria and give approval of new roads, drainage systems, flood control improvements and infrastructure throughout the County and municipalities including Lake Greenwood and its surrounding properties, County Airport operations, and other projects that are sensitive in nature.
Job Listing…
---
JOB TITLE: Senior Electrical Engineer
JOB STATUS: Full-Time Position
EMPLOYER: ELDECO – Eldeco Careers
JOB SUMMARY:
• Prepares the electrical designs, construction and installation drawings, and technical support on
• design/build projects
• Reports to and assists the Electrical Engineering Manager in reviewing projects, assessing project
• feasibility, cost and timelines
• Researches and analyzes client requests associated with electrical systems
• Prepares and presents technical information to peers, teams and clients
• Conduct meetings with teams, groups and clients
• Prepare 3 and 2-dimensional construction documents using Revit
Job Listing…