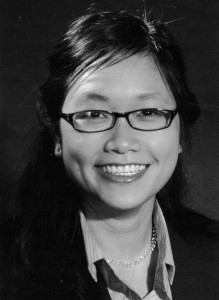 The SC Society of Professional Engineers presented its Young Engineer of the Year award at the 2015 SC Engineering Conference & Trade Show Awards Banquet to Ms. Phoung Bacon, PE. Bacon resides in Columbia, SC.
Bacon graduated Summa Cum Laude from the University of Florida in 2009 with a Bachelor of Science in Civil Engineering, and in 2010 she received her Masters of Engineering in Civil Engineering from University of Florida.
Bacon is now a structural engineer at the Crom Corporation where she performs various designs related to prestressed concrete tanks. While at Crom Corporation she's analyzed and designed various components of circular prestressed concrete tanks and related systems using different materials such as wood, structural steel, aluminum, fiberglass and reinforced concrete. An expert in the field she's developed and presented training seminars.
As a young Professional Engineer she is a member of ASCE, the American Concrete Institute, and SCSPE. She is active in the SCSPE Columbia Chapter where she just finished her term as the Secretary/Treasurer. Bacon also received the Columbia Chapter Young Engineer of the Year. She is married and has a four year old child.
"Phoung Bacon is a great up and comer and is going to be a valuable professional to the engineering community; she is what defines the Young Engineer of the Year," Adam B. Jones, SCSPE Executive Director. To be eligible for the SCSPE Young Engineer of the Year the recipient must be under 35.