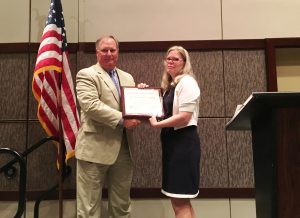 The National Society of Professional Engineers has named Mr. Martin O. Mobley, PE to its 2016 class of Fellow members at the South Carolina Engineering Conference and Trade Show on June 25, 2016 at the Embassy Suites Charleston Area Convention Center in North Charleston, SC. The Fellow membership grade honors those active NSPE members who have demonstrated exemplary and devoted service to their profession, their Society, and their community. NSPE launched its Fellows Program in 2000 and has named over 600 members as Fellows.
"The 2016 class of NSPE Fellows exemplifies the attributes for which the Fellow recognition program was initially conceived," said Monte Phillips, P.E., Ph.D., F.NSPE, the chairman of the executive committee of the Council of Fellows. "Achieving NSPE Fellow status is an honor reserved for only a select few NSPE members who have demonstrated truly outstanding service to the engineering community. As chair of the Council of
Fellows, it is my honor and privilege to be associated with such an outstanding group."
Mobley lives in Rock Hill, SC.  He received his BS in Electrical Engineering from the Citadel in 1975.  Mobley started working immediately after graduating, finally retiring from Little Diversified Architectural Consulting in 2014.
Since joining NSPE in 1978 Mobley has served not only NSPE but also his state and local Chapter with the utmost dedication, devotion and commitment, and through this Fellow membership he is also recognized by the South Carolina Society of Professional Engineers for his countless contributions and vast achievements.   He's integral to the Catawba Chapter, were he's won Catawba Chapter Engineer of the Year, and went through the officers' chairs.
Mobley's been vital to MATHCOUNTs winning the Diamond Service Award, which is 20+ years of volunteering his time.   He served on the SCSPE State Board ending as a Past President in 2004.  On a national Level he was a member of the Candidate Screening Committee in 2007 and 2008.  Mobley is continuing to serve both SCSPE & NSPE by being sworn in on June 23, 2016 as the new NSPE House of Delegates Representative for SCSPE.
Mobley epitomizes the highest ideals upon which the NSPE Fellow program was established – a strong record of unselfish service to his state and national society, and an enduring devotion to his profession.   For these and his many other notable accomplishments, Marty Mobley has been selected by the National Society of Professional Engineers to carry the honored title of Fellow and to proudly place behind his name the designation "P.E., F.NSPE."