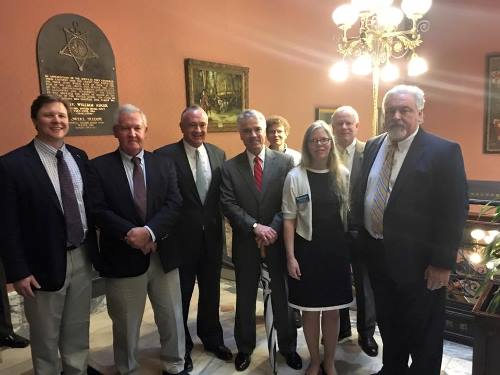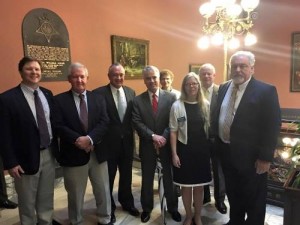 South Carolina celebrated Engineer's Week February 21- 27, 2016 with South Carolina Engineers Day being observed on February 24, 2016.
A joint resolution which was introduced in the House by Representative Kenny Bingham, PE, District 89, of American Engineering Consultants, Inc., and by Senator Shane Martin, District 13, which made February 24, 2016 South Carolina Engineer's Day. A proclamation was made by the Governor making E-Week February 21 – 27, 2016.
Members of both ACEC-SC and SCSPE came to the State House on the 24th to be recognized in the House Chambers. Representative Bingham, who a Professional Engineer, spoke from the House floor about how important the engineering profession is, and what an impact it has on the State of South Carolina.
The Joint Resolution reads as:
H. 4611
TO RECOGNIZE AND COMMEND THE PROFESSIONAL ENGINEERS WHO LIVE AND WORK IN THE GREAT STATE OF SOUTH CAROLINA, TO ENCOURAGE ALL SOUTH CAROLINIANS TO HONOR OUR ENGINEERS FOR THEIR MANY CONTRIBUTIONS TO THE PALMETTO STATE'S QUALITY OF LIFE AND TO DECLARE WEDNESDAY FEBRUARY 24,2016 AS SOUTH CAROLINA PROFESSIONAL ENGINEERS DAY.
WHEREAS, the South Carolina General Assembly appreciative of the outstanding service rendered by engineers in our State, is pleased to recognize this hard – working body of professionals in conjunction with the celebration of National Engineers Week, February 21 -27, 2016 and
WHEREAS, in advancing new discoveries and technologies that change the way Americans live, think, and work, engineers make a world of difference in our society; and
WHEREAS, Thousands of engineers living in South Carolina are dedicated to enriching our State through their work in construction, education, government, industry, and private practice; and
WHEREAS, through their integral involvement in the design, construction, and maintenance of our built environment, these engineers help ensure a strong infrastructure to accommodate new industry, homes, communities, schools, and churches.