The National Society of Professional Engineers has named George H. McCall, P.E. to its 2015 class of Fellow members at the South Carolina Engineering Conference and Trade Show on June 13, 2015 at the Myrtle Beach Hilton Resort in Myrtle Beach, SC. The Fellow membership grade honors those active NSPE members who have demonstrated exemplary and devoted service to their profession, their Society, and their community. NSPE launched its Fellows Program in 2000 and has named over 600 members as Fellows.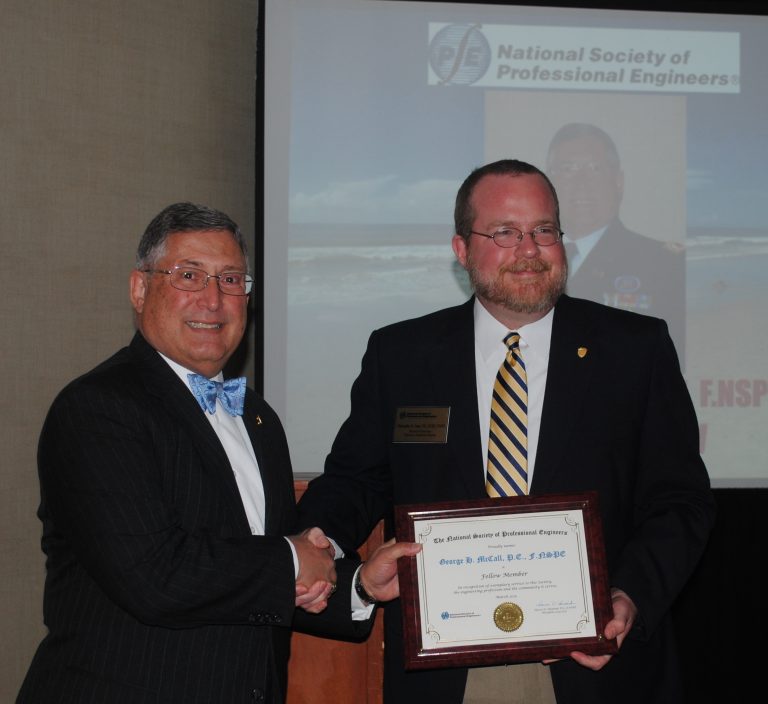 "The 2015 class of NSPE Fellows exemplifies the attributes for which the Fellow recognition program was initially conceived," said Monte Phillips, P.E., Ph.D., F.NSPE, the chairman of the executive committee of the Council of Fellows. "Achieving NSPE Fellow status is an honor reserved for only a select few NSPE members who have demonstrated truly outstanding service to the engineering community. As chair of the Council of
Fellows, it is my honor and privilege to be associated with such an outstanding group."
McCall lives in Greenville, South Carolina and is Vice President of McCall & Son, Inc., a firm specializing in fire protection engineering. He is a licensed fire protection engineer and a former Fire Marshal (retired) at the Wade Hampton Fire Department.
Before becoming an engineer or a fire marshal, McCall served his country in the US Army where he served overseas and witnessed a tragedy in Seoul Korea that shaped his professional career. After seeing a horrible Hotel Fire in Korea and was honorably discharged, McCall enrolled at Clemson University studying electrical engineering and started volunteering at the Wade Hampton Fire Department and the Clemson University Fire Department. McCall went on to finish his degree in Electrical Engineering at Clemson University, and went on to get a Masters of Public Administration from the University of South Carolina and Clemson University.
While in school, McCall worked part time at Davis Electrical Constructors, Inc., and as a Fireman at Wade Hampton Fire Department. He went on to become a Fire Marshal at the same fire house. As an engineer McCall has specialized in fire protection engineering and has been employed by sprinkler contractors for "Fire Sprinkler System Specification" and architectural firms to design/assess fire protection systems, as well worked with the Patriot's Point Development Authority, Mt. Pleasant, SC.
He has been a member of NSPE and the South Carolina Society of Professional Engineers since 1990. McCall is an active member in the local and State level as well as the National organization. McCall just completed his term as the SCSPE President, and will serve as the immediate Past President in 2015-2016