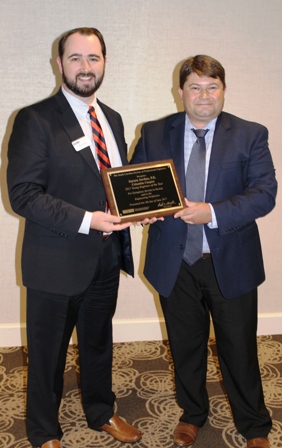 The SC Society of Professional Engineers presented its Young Engineer of the Year award at the 2017 SC Engineering Conference & Trade Show Awards Banquet on Friday June 9, 2017 to Mr. Jayson Jordan, PE.  Jordan resides in Lexington, SC and works in Columbia, SC .
Jordan is a Clemson University graduate with a BS in Civil Engineering with an emphasis on Construction Engineering & Management.  He also received his MS of Civil Engineering with an emphasis in Construction Materials from Clemson .
Jordan is the Technical Director at the South Carolina Asphalt Pavement Association (SCAPA), were he provides technical assistance to the staff and membership of SCAPA in both public and private arenas.  Jordan works with agencies as specifications are revised, leads the SCAPA Quality Improvement Committee, and keeps members up-to-date on the latest specification changes.  He works hard to increase SCAPA presence with engineers, architects, universities, and owners to help educate them on new practices and specifications.  Jordan conducts technical training seminars and participates in speaking engagements at industry conferences, and is truly passionate about asphalt.
Jordan is active in the Engineering Community and is an active member in several Trade Associations:   ASCE, APWA, the Association of Asphalt Paving Technologies, South Easter Asphalt User Producer Group, the Transportation Research Board, the Mining Association, the ACEC-SC Transportation Committee.
Jordan is a model member of the South Carolina Society of Professional Engineers.  He first learned about SCSPE when he was a senior in high school, when he saw the SCSPE Catawba Chapter advertised a scholarship in the Lancaster News (which he received.)  He is currently serving on the SCSPE Board of Directors as President of the Columbia Chapter.  He's been active with MATHCOUNTS at his chapter and with the state.
In his free time he enjoys spending time with his wife Ashley and their Labrador, Cooper.  He loves Clemson Sports, Columbia Fireflies baseball, and playing golf (when he has time.)
"Jayson is a great member.   He is a valuable professional in the engineering community;   He is the kind of member we look for at SCSPE, and exactly what defines the Young Engineer of the Year.  I look forward to working with him on the SCSPE Board of Directors as he will be bringing his association and engineering expertise to the table," said Adam B. Jones, SCSPE Executive Director.  To be eligible for the SCSPE Young Engineer of the Year the recipient must be under 35.
SCSPE Young Engineer of the Year Recipients
Luke A. Nance, Jr.-1974
John R."Rooney" Floyd-1980
J. Coley Altman-1982
Stephen F. Csernak-1983
Rick R. Evans-1984
Don R. Sorensen-1985
Thomas H. Moore, III-1986
Theresa Hilliard (Hodge)-1987
William E. Bynum, III-1988
Bevlee A. Watford-1989
Luis Mariaca-1990
Patrick Flood-1991
Tony Stutes-1992
Mark Hapstack, PE-1993
Deepal S. Eliatamby, PE-1995
Jeffrey D. Klinar, PE-1997
Susan C. Kozemko, PE-1998
Jason D. Martin, PE-1999
Eric A. Mencken, PE-2000
Steven B. Hendrix, PE-2001
William A. (Trey) Blackwood III, PE-2002
Josh Fowler, PE-2004
Jennings C. Hollingsworth, PE-2006
Michael V. Jolly, PE-2007
Linda Suzanne Aultman, PE-2008
Phillip Hutcherson, PE-2009
Michael L. Hood, PE-2010
David McNeice, PE-2011
Jason Vaughn, PE-2012
V. Spring McEwen, PE-2013
Andrew "Andy" Rogers, PE-2014
Phuong Bacon, PE-2015