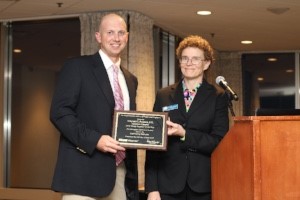 The SC Society of Professional Engineers recognized Clayton C. Putnum, PE as the 2018 Young Engineer of the Year at the Awards Banquet at the Hilton Myrtle Beach Resort.
Putnam, an Eagle Scout, strived for excellence early in his life. He earned both a BS and MS in Engineering with an emphasis in structures from Clemson University. He started his career at Shaw Group in Charlotte after finishing his education. Currently, he is an engineering group leader at Metromont Corporation in Greenville, SC where he manages a group of four to five engineers in the design of various precast structures.
An active member of the SCSPE Piedmont Chapter, he even takes the time to teach middle school students about the various fields of engineering during Discover E (Engineers Week.). He is also a member of the Precast Concrete Institute and Leadership PCI.
He volunteers with Habitat for Humanity, Miracle Ministries, and Operation Christmas Child at Taylors First Baptist Church.
"Young Engineers like Clay are the future of the organization and the industry," said Adam B. Jones SCSPE Executive Director.
SCSPE Young Engineer of the Year Recipients
Luke A. Nance, Jr.-1974
John R."Rooney" Floyd-1980
J. Coley Altman-1982
Stephen F. Csernak-1983
Rick R. Evans-1984
Don R. Sorensen-1985
Thomas H. Moore, III-1986
Theresa Hilliard (Hodge)-1987
William E. Bynum, III-1988
Bevlee A. Watford-1989
Luis Mariaca-1990
Patrick Flood-1991
Tony Stutes-1992
Mark Hapstack, PE-1993
Deepal S. Eliatamby, PE-1995
Jeffrey D. Klinar, PE-1997
Susan C. Kozemko, PE-1998
Jason D. Martin, PE-1999
Eric A. Mencken, PE-2000
Steven B. Hendrix, PE-2001
William A. (Trey) Blackwood III, PE-2002
Josh Fowler, PE-2004
Jennings C. Hollingsworth, PE-2006
Michael V. Jolly, PE-2007
Linda Suzanne Aultman, PE-2008
Phillip Hutcherson, PE-2009
Michael L. Hood, PE-2010
David McNeice, PE-2011
Jason Vaughn, PE-2012
V. Spring McEwen, PE-2013
Andrew "Andy" Rogers, PE-2014
Phuong Bacon, PE-2015
Sean Goddeyne-2016
Jayson Jordan, PE-2017
Clayton C. Putnum, PE-2018