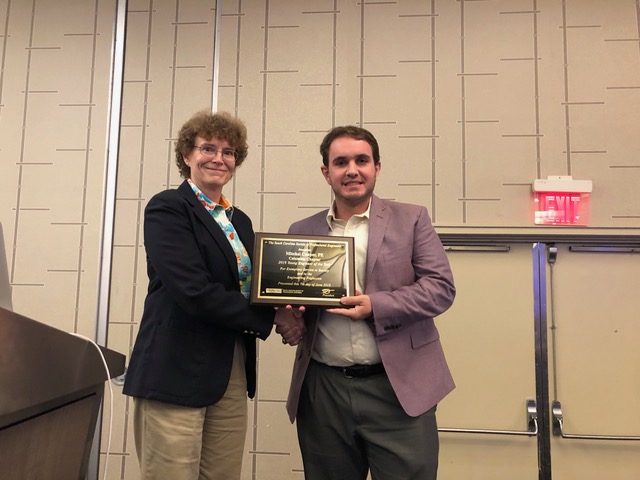 The South Carolina Society of Professional Engineers named Mitchel Cooper, PE, Camden, SC, the 2019 South Carolina Young Engineer of the Year at the SC Engineering Conference and Trade Show on June 7, 2019 at the Hyatt Regency Greenville, SC.
Cooper is a 2010 Graduate of Clemson University with a Bachelor's of Science in Civil Engineering where he emphasized his studies in the areas of transportation and construction. While at Clemson, Cooper played in the Tiger Band and enjoyed Clemson football.
He started working in engineering while at Clemson, interning at SCDOT in Roadway Design, Bike and Pedestrian Design, and Seismic Bridge Plans. He then interned at King Asphalt. His experience at King Asphalt lead him to become an undergraduate assistant at the Clemson University Asphalt Rubber Technology Service.
After college, he began his career at Boggs Paving. Wanting to practice engineering, he moved to STV Inc in 2012 where he was a Lead Designer. Cooper is still at STV and is now a Project Manager in the Columbia office.
Cooper is active in the American Society of Civil Engineers, is a graduate of the American Council of Engineering Companies of South Carolina Future Leaders, and was recently sworn in as Vice President of the South Carolina Society of Professional Engineers' Columbia Chapter.
He gives back to his community as a WatchDOG at Camden Elementary School. He is active at Camden First Baptist Church.
He and his wife Katie have two children. He enjoys spending time with his family and watching Clemson football.
"Mitchel is exactly what we look for in a member. He brings great ideas to the table, and we look forward to him moving up in to leadership in SCSPE," said Adam B. Jones, SCSPE Executive Director. The SCSPE Young Engineer of the Year is a practicing Professional Engineer under the age of 35 years of age.
SCSPE Young Engineer of the Year Recipients
Luke A. Nance, Jr.-1974
John R."Rooney" Floyd-1980
J. Coley Altman-1982
Stephen F. Csernak-1983
Rick R. Evans-1984
Don R. Sorensen-1985
Thomas H. Moore, III-1986
Theresa Hilliard (Hodge)-1987
William E. Bynum, III-1988
Bevlee A. Watford-1989
Luis Mariaca-1990
Patrick Flood-1991
Tony Stutes-1992
Mark Hapstack, PE-1993
Deepal S. Eliatamby, PE-1995
Jeffrey D. Klinar, PE-1997
Susan C. Kozemko, PE-1998
Jason D. Martin, PE-1999
Eric A. Mencken, PE-2000
Steven B. Hendrix, PE-2001
William A. (Trey) Blackwood III, PE-2002
Josh Fowler, PE-2004
Jennings C. Hollingsworth, PE-2006
Michael V. Jolly, PE-2007
Linda Suzanne Aultman, PE-2008
Phillip Hutcherson, PE-2009
Michael L. Hood, PE-2010
David McNeice, PE-2011
Jason Vaughn, PE-2012
V. Spring McEwen, PE-2013
Andrew "Andy" Rogers, PE-2014
Phuong Bacon, PE-2015
Sean Goddeyne-2016
Jayson Jordan, PE-2017
Clayton C. Putnum, PE-2018
Mitchel Cooper, PE – 2019