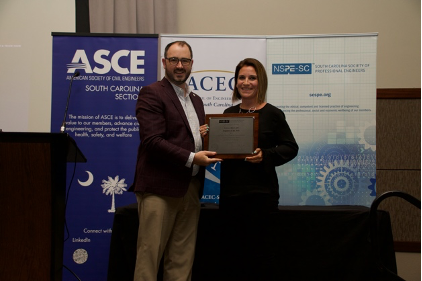 The SC Society of Professional Engineers presented Catherine Warfel, PE, its 2022 Engineer of the Year Award at the SC Engineering Conference & Trade Show in North Charleston, SC.
Warfel is currently a Senior Precast Engineer at Devita and Associates.  At Devita and Associates, she enjoys mentoring and leading a team of engineers.  Before her position at Devita and Associates, Warfel worked at Metromont Corporation in Greenville, SC.
Warfel has many great projects she has worked on.  She has worked on projects such as the Camperdown Plaza in Greenville, the NCEES' headquarters on Verdae Green in Greenville, and many more.
This 2022 Engineer of the Year served on the SCSPE Board as the Piedmont Chapter President and served on the Piedmont Chapter Board of Directors for several years.  She is active in the MathCounts program, SCSPE Piedmont Chapter, and used to lead Metromont's Discover E efforts.  She is involved in the National Precast/Prestressed Concrete Institute.
Warfel is a native of Clevland, Ohio, but lives in Greer with her daughter, two dogs, and two chickens.   She enjoys giving back to younger engineers and mentoring future Professional Engineers.
SCSPE Executive Director, Adam B. Jones, said, "Warfel is what we look for in a member of the South Carolina Society of Professional Engineers.  She is an advocate of the license and mentors our future Professional Engineers and members."
Congratulations, Catherin Warfel, PE 2022 SCSPE Engineer of the Year.
SCSPE Engineering of the Year Past Recipients
Robert C. Smith-1961
Wilbur Smith-1964
Lee McClure-1966
J.H. Sams-1968
H. Morgan Rogers-1969
R. King Rouse-1970
C.T. Wise-1971
Alan McC. Johnstone-1972
Harvey N. Heckle-1973
Robert I. Newman-1974
Robert A. Hubbard-1975
Frank O. Paulson-1976
A.W.  Schoolbred, Jr.-1977
John H. Bringhurst, Jr.-1978
William L. Carpenter-1979
James T. McCarter-1980
H. Hunter Watkins-1981
James S. McKinney-1982
Bruce V. Flemming-1983
J. David Waugh-1984
Bill L. Atchley-1985
Forrest H. Thieker, Jr.-1986
Louis A. Seaborn, Jr.-1987
Richard M. Pace-1988
John W.  Bonniville-1989
J. Charles Jennett-1990
Marion U. Dorsey-1991
W. Kenneth Humphries-1991
Mitchell S. Tibshrany-1992
E.A. Campbell, PE-1993
William A. Blackwood, PE-1994
Samuel E.G. Linyard, PE-1995
William D. Smith, PE-1996
Hazel L. Elliot, PE-1997
Paul M. O'Neal, Jr., PE-1998
George W. Fletcher, PE-1999
John P. Church, PE-2000
Anderson M. Kinghorn, PE-2001
Charles M. Joye II, PE-2002
James O. "Pete" Gordan, PE-2003
Jim Justus, PE-2004
Clarence T. (Chuck) Sherron, Jr., PE-2005
Theresa H. Hodge, PE-2006
Larry B. Copeland, PE-2007
Joseph H. Gibbons, PE, Ph.D.-2008
Charles F. "Frank" Lewis,Sr., PE-2009
Robert Patrick "Pat" Jenkins, PE-2009
G. Marguerite McClam, PE-2010
Gene L. Dinkins, PE, PLS-2011
George H. McCall, PE-2012
Ismail Ozbek, PE-2013
David Wilson, PE-2014
Jason Vaughn-2015
Marshall Norris-2016
MK "Trina" Baldwin, PE-2017
Michelle Motchos, PE-2018
J. Carlos Gittens, PE, F.NSPE – 2019
Hesha Gamble, PE, F.NSPE – 2020
Suzanne Aultman, PE – 2021
Catherine Warfel – 2022