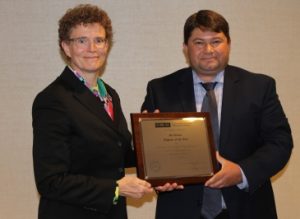 SCSPE awarded Ms. MK "Trina" Baldwin, PE, the distinct honor of 2017 Engineer of the Year at the 2017 South Carolina Engineering Conference & Trade Show on June 9. Baldwin lives in Central, SC.
Baldwin is a third generation Mechanical Engineer and Professional Engineer. She grew up playing with LEGOS, Erecto sets, Lincoln Logs, and was determined to be an engineer at a young age. She attended the Governors School for Math & Science her junior and senior years. She went on to attend Clemson University where she earned her BS in Mechanical Engineering. A few years later she got her MS in Mechanical Engineer from Georgia Institute of Technology.
Not long after college, Baldwin decided to serve her country and joined the Navy where she served until she retired. While in the Navy, she was stationed in Guam, Italy, Mississippi, Antarctica, and Washington DC. Her efforts to help those in need are incredible. She worked tirelessly for FEMA. Currently she is a consulting engineer and a devoted volunteer. She's consulting for the Ferguson Group and McCall and Sons, Inc.
Baldwin continues to serve her State and County as part of the SC State Guard Engineering Command. She's an expert in disaster recovery which she's shown the last two years volunteering after the great flood of 2015 and Hurricane Matthew in 2016. Through her service in the State Guard, she's received the Distinguished Service Medal, the Medal of Merit, the Commendation Medal, and the Humanitarian Service Ribbon.
Baldwin is a member of the Society of American Military Engineers. She currently serves as treasurer of the American Society of Mechanical Engineers, SC Chapter. She's an active member of SCSPE and the SCSPE Piedmont Chapter. She's is always one of the first to answer SCSPE's Legislative Calls to action contacting her Senator and House member right away.
She lectures around the US about her experiences in the Navy, with FEMA and her time in Antarctica. She is an advocate for educating our youth and assists with several STEM outreach events at Roper Mountain Science Center. She supports the FIRST LEGO League and is a referee at their events. In her spare time, she enjoys working on her diesel VW's and grows blueberries and pears. Through all of this, she finds time to be active at her church.
"Baldwin is the volunteer's volunteer, and is someone the State should be happy she is here to help. She's always there to lend a hand," said SCSPE Executive Director, Adam B. Jones.
SCSPE Engineering of the Year Past Recipients
Robert C. Smith-1961
Wilbur Smith-1964
Lee McClure-1966
J.H. Sams-1968
H. Morgan Rogers-1969
R. King Rouse-1970
C.T. Wise-1971
Alan McC. Johnstone-1972
Harvey N. Heckle-1973
Robert I. Newman-1974
Robert A. Hubbard-1975
Frank O. Paulson-1976
A.W.  Schoolbred, Jr.-1977
John H. Bringhurst, Jr.-1978
William L. Carpenter-1979
James T. McCarter-1980
H. Hunter Watkins-1981
James S. McKinney-1982
Bruce V. Flemming-1983
J. David Waugh-1984
Bill L. Atchley-1985
Forrest H. Thieker, Jr.-1986
Louis A. Seaborn, Jr.-1987
Richard M. Pace-1988
John W.  Bonniville-1989
J. Charles Jennett-1990
Marion U. Dorsey-1991
W. Kenneth Humphries-1991
Mitchell S. Tibshrany-1992
E.A. Campbell, PE-1993
William A. Blackwood, PE-1994
Samuel E.G. Linyard, PE-1995
William D. Smith, PE-1996
Hazel L. Elliot, PE-1997
Paul M. O'Neal, Jr., PE-1998
George W. Fletcher, PE-1999
John P. Church, PE-2000
Anderson M. Kinghorn, PE-2001
Charles M. Joye II, PE-2002
James O. "Pete" Gordan, PE-2003
Jim Justus, PE-2004
Clarence T. (Chuck) Sherron, Jr., PE-2005
Theresa H. Hodge, PE-2006
Larry B. Copeland, PE-2007
Joseph H. Gibbons, PE, Ph.D.-2008
Charles F. "Frank" Lewis,Sr., PE-2009
Robert Patrick "Pat" Jenkins, PE-2009
G. Marguerite McClam, PE-2010
Gene L. Dinkins, PE, PLS-2011
George H. McCall, PE-2012
Ismail Ozbek, PE-2013
David Wilson, PE-2014
Jason Vaughn-2015