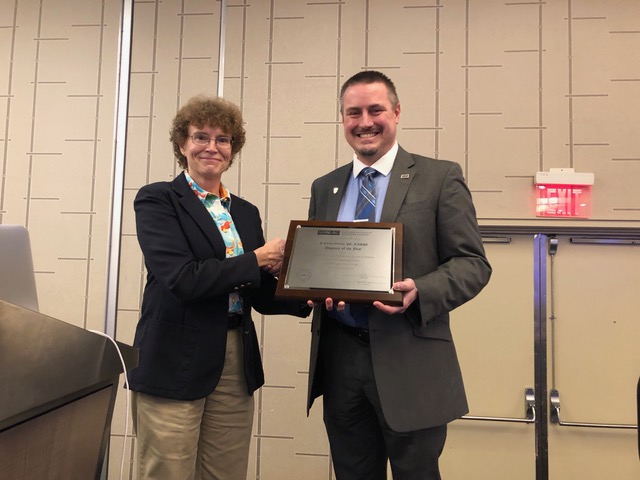 J. Carlos Gittens, PE, F.NSPE, was named the South Carolina Society of Professional Engineers Engineer of the Year at the SC Engineering Conference and Trade Show on June 7, 2019 at the Hyatt Regency Greenville, SC.
Gittens, a native of Barbados, West Indies, spent the majority of his life in central Florida. He attended University of Central Florida and graduated with honors in 1998 with a Bachelor of Science in Civil Engineering. He received his MBA from USF in 2000.
Gittens started in the consulting engineering field with URS (now AECOM) as a Construction Inspector/Project Engineer/Engineering Intern before moving on to Jacobs Engineering Group, Inc. He moved to South Carolina in 2011 where he was the Office Manager and Senior Engineer. After a brief stint with Parsons Brinkerhoff in Charlotte, he returned to KCI Technologies in 2014 where he is currently the Senior Project Manager and Office Manager.
While at UCF, Gittens joined the Florida Engineering Society (FES). He served on the FES board as the Student Member Representative, where he became passionate about the Society of Professional Engineers.
Upon moving to the Spartanburg, South Carolina, he quickly plugged himself in to the South Carolina Society of Professional Engineers where he made it his mission to revive the dormant Spartanburg Chapter. He has served as the Spartanburg Chapter President before becoming the Spartanburg Chapter Director until June of 2019. He was sworn in as the SCSPE Vice President on June 6, 2019.
Not only is he active on the local and state level, Gittens has been active on the national level since 2008. He is currently the Southeast Regional Director on the National Society of Professional Engineers' Board of Directors.
He's been a role model for Mathletes volunteering with MathCounts since 1998.
He attends Spartanburg County Council meetings and is a member of the Greenville County Chamber of Commerce. He is active at the First Baptist Church of Spartanburg.
Gittens is married with one child. He enjoys watching USF football and spreading the word on the importance of licensure and being a member of your professional society. In his own words, he "bleeds NSPE."
"Carlos Gittens is the type of member any society would want to have. I'm just lucky he is a member of the South Carolina Society of Professional Engineers, and I look forward to continuing to work with him, " said Adam B. Jones, Executive Director of SCSPE.
SCSPE Engineering of the Year Past Recipients
Robert C. Smith-1961
Wilbur Smith-1964
Lee McClure-1966
J.H. Sams-1968
H. Morgan Rogers-1969
R. King Rouse-1970
C.T. Wise-1971
Alan McC. Johnstone-1972
Harvey N. Heckle-1973
Robert I. Newman-1974
Robert A. Hubbard-1975
Frank O. Paulson-1976
A.W.  Schoolbred, Jr.-1977
John H. Bringhurst, Jr.-1978
William L. Carpenter-1979
James T. McCarter-1980
H. Hunter Watkins-1981
James S. McKinney-1982
Bruce V. Flemming-1983
J. David Waugh-1984
Bill L. Atchley-1985
Forrest H. Thieker, Jr.-1986
Louis A. Seaborn, Jr.-1987
Richard M. Pace-1988
John W.  Bonniville-1989
J. Charles Jennett-1990
Marion U. Dorsey-1991
W. Kenneth Humphries-1991
Mitchell S. Tibshrany-1992
E.A. Campbell, PE-1993
William A. Blackwood, PE-1994
Samuel E.G. Linyard, PE-1995
William D. Smith, PE-1996
Hazel L. Elliot, PE-1997
Paul M. O'Neal, Jr., PE-1998
George W. Fletcher, PE-1999
John P. Church, PE-2000
Anderson M. Kinghorn, PE-2001
Charles M. Joye II, PE-2002
James O. "Pete" Gordan, PE-2003
Jim Justus, PE-2004
Clarence T. (Chuck) Sherron, Jr., PE-2005
Theresa H. Hodge, PE-2006
Larry B. Copeland, PE-2007
Joseph H. Gibbons, PE, Ph.D.-2008
Charles F. "Frank" Lewis,Sr., PE-2009
Robert Patrick "Pat" Jenkins, PE-2009
G. Marguerite McClam, PE-2010
Gene L. Dinkins, PE, PLS-2011
George H. McCall, PE-2012
Ismail Ozbek, PE-2013
David Wilson, PE-2014
Jason Vaughn-2015
Marshall Norris-2016
MK "Trina" Baldwin, PE-2017
Michelle Motchos, PE-2018
J. Carlos Gittens, PE, F.NSPE – 2019