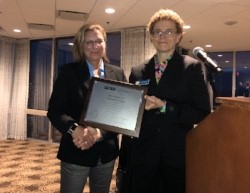 The SC Society of Professional Engineers recognized Michelle Motchos, PE, as the 2018 Engineer of the Year at the Awards Banquet at the Hilton Myrtle Beach Resort.
Motchos is currently Director of Structural Engineering at Stevens & Wilkinson in Columbia, SC, where she has been for the last 17 years. She is active in the engineering community participating in other organizations such as the Structural Engineers Association, the American Society of Civil Engineers, and the American Concrete Institute.
She is president of the SCSPE Educational Foundation, Inc. This organization gives scholarships to rising juniors and seniors studying engineering in South Carolina institutions. Furthermore, she is a shadowing mentor for the Richland/Lexington District Five and has served on the Midlands Tech Civil Engineering Advisory Board.
"One of the selfless activities in which Motchos regularly participates is serving lunches to the engineers that sit for the Professional Engineer exam in Columbia," said Adam Jones, SCSPE Executive Director. The test is a full day, and SCSPE provides pizzas, fruit, and drinks to those taking the exam, and she has been there doling out lunch for years.
Motchos earned both her bachelor's and master's degrees in Engineering from Virginia Polytechnic Institute. She is a South Carolina Registered Engineer.
SCSPE Engineering of the Year Past Recipients
Robert C. Smith-1961
Wilbur Smith-1964
Lee McClure-1966
J.H. Sams-1968
H. Morgan Rogers-1969
R. King Rouse-1970
C.T. Wise-1971
Alan McC. Johnstone-1972
Harvey N. Heckle-1973
Robert I. Newman-1974
Robert A. Hubbard-1975
Frank O. Paulson-1976
A.W.  Schoolbred, Jr.-1977
John H. Bringhurst, Jr.-1978
William L. Carpenter-1979
James T. McCarter-1980
H. Hunter Watkins-1981
James S. McKinney-1982
Bruce V. Flemming-1983
J. David Waugh-1984
Bill L. Atchley-1985
Forrest H. Thieker, Jr.-1986
Louis A. Seaborn, Jr.-1987
Richard M. Pace-1988
John W.  Bonniville-1989
J. Charles Jennett-1990
Marion U. Dorsey-1991
W. Kenneth Humphries-1991
Mitchell S. Tibshrany-1992
E.A. Campbell, PE-1993
William A. Blackwood, PE-1994
Samuel E.G. Linyard, PE-1995
William D. Smith, PE-1996
Hazel L. Elliot, PE-1997
Paul M. O'Neal, Jr., PE-1998
George W. Fletcher, PE-1999
John P. Church, PE-2000
Anderson M. Kinghorn, PE-2001
Charles M. Joye II, PE-2002
James O. "Pete" Gordan, PE-2003
Jim Justus, PE-2004
Clarence T. (Chuck) Sherron, Jr., PE-2005
Theresa H. Hodge, PE-2006
Larry B. Copeland, PE-2007
Joseph H. Gibbons, PE, Ph.D.-2008
Charles F. "Frank" Lewis,Sr., PE-2009
Robert Patrick "Pat" Jenkins, PE-2009
G. Marguerite McClam, PE-2010
Gene L. Dinkins, PE, PLS-2011
George H. McCall, PE-2012
Ismail Ozbek, PE-2013
David Wilson, PE-2014
Jason Vaughn-2015
Marshall Norris-2016
MK "Trina" Baldwin, PE-2017
Michelle Motchos, PE-2018