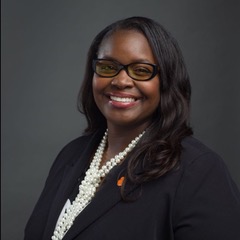 Hesha Gamble, PE, F.NSPE, was named the South Carolina Society of Professional Engineers Engineer of the Year at the SCSPE Annual Meeting on July 28, 2020.
Gamble is a Class of 2000 Graduate of Clemson University where she received her Bachelors of Science in Civil Engineering. She received her Masters of Science in Civil Engineering in 2001. While at Clemson she was active in Delta Sigma Theta Sorority where she served as President. She refereed intramural sports, was a mentor for the Programs for Educational Enrichment and Retention (PEER) for minority engineering students, and was an officer in the Institute of Transportation Engineers.
Gamble has spent her entire career in the public sector starting as a Traffic Engineer for Greenville County in January of 2002. She received her PE in June of 2005 and in May of 2008 she became the County Engineer of Greenville County where she still holds that position. She currently manages the Engineering and
Maintenance Division of Greenville County where she oversees and coordinates engineering and maintenance activities for 1,800 miles of roads and bridges.
With all of her duties at work, she still finds time to give back to her profession. She is the current and inaugural Chairman of Clemson University General Engineer Advisory Board. She is on the SC Board of Registration for Professional Engineers & Surveyors Civil Engineering Portfolio Review Committee, which reviews credentials, work history and experience of potential PE candidates.
She is a member of APWA and the ASCE SC Chapter, and still finds time to be active in the SCSPE Piedmont Chapter where she was awarded the 2020 Piedmont Chapter Engineer of the Year.
She also finds time to give back to her community. She is on the Board of Directors at Piedmont Health Foundation. She not only attends Bethlehem Baptist Church in Simpsonville, but she is also a Fellowship Cluster Leader and has coached Youth Basketball at her church. She is active in the Alumni Chapter of Delta Sigma Theta Sorority where she has served two terms as president.
Gamble is married to a Professional Engineer, Jason, and they have one son Justus. I'm not sure when she finds the time, but she enjoys crafting, working out, reading and watching sports.
"Hesha Gamble is the engineer's engineer. She's hard working, respected by her peers, coworkers, and fellow SCSPE members. SCSPE is lucky to have her as a member, and South Carolina is lucky to have her as a licensed professional engineer." said Adam B. Jones, Executive Director of SCSPE.
SCSPE Engineering of the Year Past Recipients
Robert C. Smith-1961
Wilbur Smith-1964
Lee McClure-1966
J.H. Sams-1968
H. Morgan Rogers-1969
R. King Rouse-1970
C.T. Wise-1971
Alan McC. Johnstone-1972
Harvey N. Heckle-1973
Robert I. Newman-1974
Robert A. Hubbard-1975
Frank O. Paulson-1976
A.W.  Schoolbred, Jr.-1977
John H. Bringhurst, Jr.-1978
William L. Carpenter-1979
James T. McCarter-1980
H. Hunter Watkins-1981
James S. McKinney-1982
Bruce V. Flemming-1983
J. David Waugh-1984
Bill L. Atchley-1985
Forrest H. Thieker, Jr.-1986
Louis A. Seaborn, Jr.-1987
Richard M. Pace-1988
John W.  Bonniville-1989
J. Charles Jennett-1990
Marion U. Dorsey-1991
W. Kenneth Humphries-1991
Mitchell S. Tibshrany-1992
E.A. Campbell, PE-1993
William A. Blackwood, PE-1994
Samuel E.G. Linyard, PE-1995
William D. Smith, PE-1996
Hazel L. Elliot, PE-1997
Paul M. O'Neal, Jr., PE-1998
George W. Fletcher, PE-1999
John P. Church, PE-2000
Anderson M. Kinghorn, PE-2001
Charles M. Joye II, PE-2002
James O. "Pete" Gordan, PE-2003
Jim Justus, PE-2004
Clarence T. (Chuck) Sherron, Jr., PE-2005
Theresa H. Hodge, PE-2006
Larry B. Copeland, PE-2007
Joseph H. Gibbons, PE, Ph.D.-2008
Charles F. "Frank" Lewis,Sr., PE-2009
Robert Patrick "Pat" Jenkins, PE-2009
G. Marguerite McClam, PE-2010
Gene L. Dinkins, PE, PLS-2011
George H. McCall, PE-2012
Ismail Ozbek, PE-2013
David Wilson, PE-2014
Jason Vaughn-2015
Marshall Norris-2016
MK "Trina" Baldwin, PE-2017
Michelle Motchos, PE-2018
J. Carlos Gittens, PE, F.NSPE – 2019
Hesha Gamble – 2020