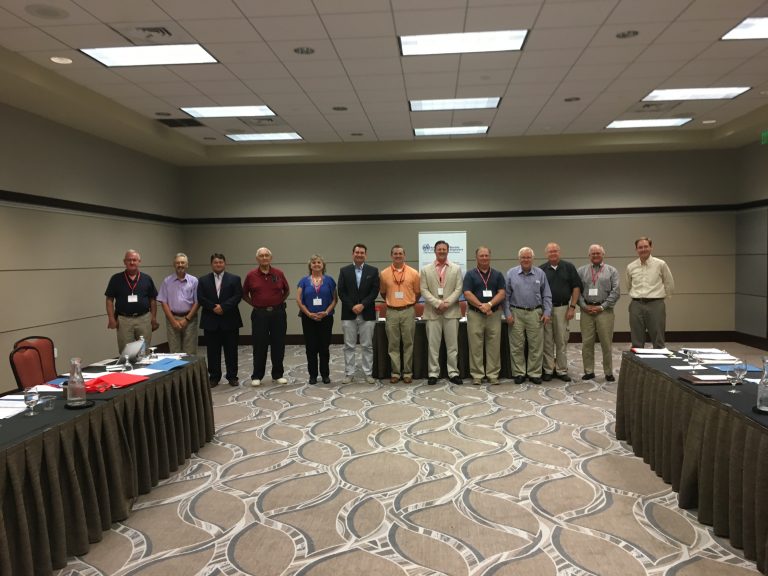 The South Carolina Society of Professional Engineers held its 2016 Annual Installation of Officers and Board Members at the Hilton Myrtle Beach Resort in Myrtle Beach, SC on June 11, 2015.
The new Officers and Board Members were installed by Joe S. Jones. who charged the officers and directors to represent the SCSPE membership in their respective positions.
Jones installed 2016-2017 President Angela Musselwhite, PE of S&ME (Charleston, SC), who replaces Past President David Rykard, PE (Hartsville, SC), Also, installed were Vice President Andrew "Andy" Rogers, PE of AECOM (Columbia, SC), Jason Vaughn, PE of Synterra (Greenville, SC) as Secretary/Treasurer, and NSPE House of Delegates Representative Martin "Marty" Mobley, PE, F.NSPE (Rock Hill, SC).
Board members elected to director positions include Mike Surratt, PE, Catawba Chapter, Carlos Gittens, PE, Spartanburg Chapter, Ola Skie, PE, Piedmont Chapter, Frank Iwanicki, PE, Charleston Chapter, and Randy Cottrell, PE, Columbia Chapter.
The 2016-2017 elected Chapter Presidents are Chris McConville, PE, Catawba, Kristin "Kristy" McIntire, PE, Coastal/Pee-Dee, Don Hallman, PhD., PE, Aiken, Willie Morgan, PE, Columbia, Jarred Jones, PE, Charleston, Marshall Noriss, PE, Piedmont, and Jerry Carter, PE, Spartanburg.
President Angela Musselwhite, PE,  looks forward to a succesful and productive year for SCSPE.