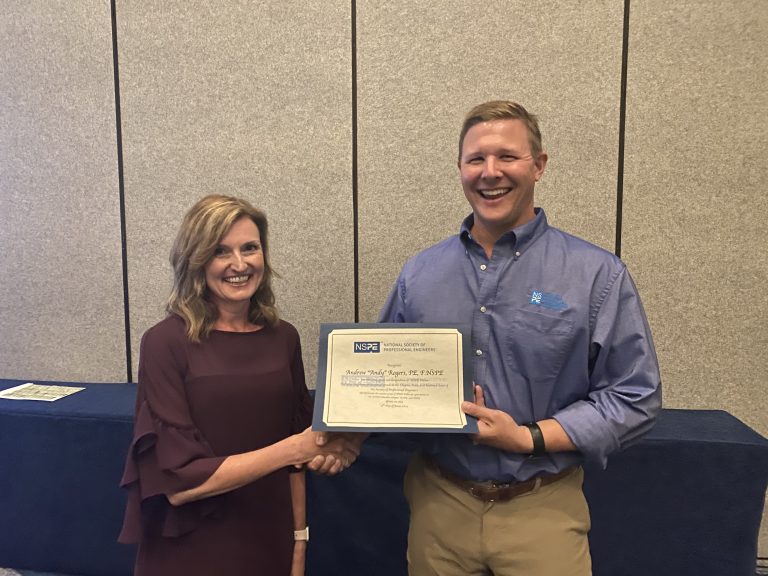 SC Society of Professional Engineers member Andrew "Andy" Rogers, PE, F.NSPE was given the designation of NSPE Fellow on June 4, 2021 by the National Society of Professional Engineers. The Fellow membership grade honors those active NSPE members who have demonstrated exemplary and devoted service to their profession, their Society, and their community. NSPE launched its Fellows Program in 2000 and has named over 600 members as Fellows.
Rogers graduated with a BS in Civil Engineering in 2003 from Clemson University. While at Clemson he was active with the Fellowship of Christian Athletes, the Clemson ASCE Student Chapter, and the Delta Chi Fraternity.
Rogers started his career at Power Engineering Co. in Columbia, SC, before moving on to his current position at AECOM where he is a Senior Project Manager. At AECOM, he has worked on such projects as two Providence Hospital projects, USC Softball Stadium, and the Athletics Village at the Roost.
Rogers has been active on a Chapter, State, and National level for the Society of Professional Engineers. He has served on Board and Executive Committee levels both at the SCSPE Columbia Chapter, and finished up as State President in 2018. At NSPE, Rogers served on the Candidate Screening Committee where he screened the candidates running for national office. He is currently serving on the NSPE Membership Task Force, and was recognized earlier this month by the NSPE Government Relations Team as one of the most active members on the NSPE Advocacy Center.
Rogers is an active member of "Fitness, Fellowship & Faith" F3-Lake Murray where he goes by the nick name Dracula. He has donated over 76 pints of blood at the American Red Cross as well as organizing blood drives over the years. Rogers is a participant in the quarterly clean-up of Farrow Road via the Adopt-A-Highway program, the Children's Tumor Foundation, works the phone bank at Palmetto Health Children's Hospital Radiothon, as well as volunteers for Families Helping Families and Habitat for Humanity. He has been a team member for Juvenile Diabetes and Children's Tumor Foundation. He also donates his time to the SC MathCounts Program annually.