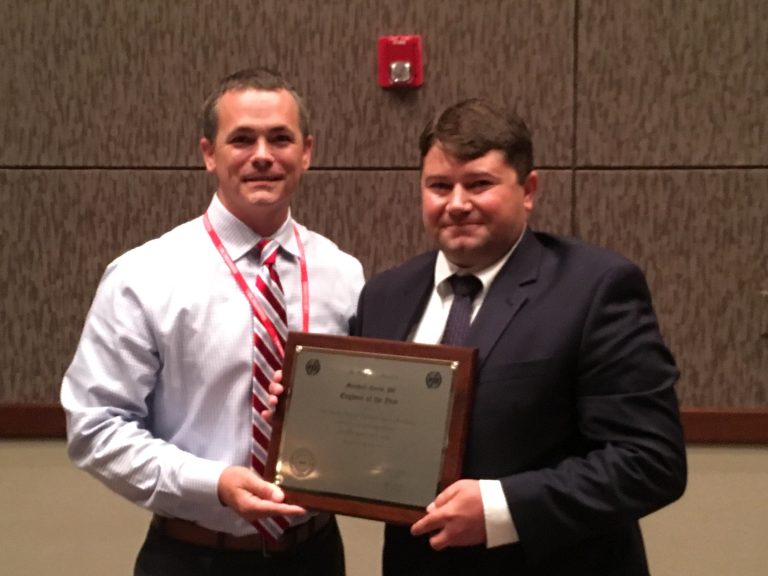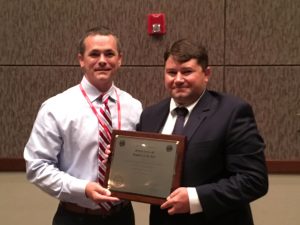 SCSPE awarded Mr. Marshall J. Norris, PE, the distinct honor of 2016 Engineer of the Year at the 2016 South Carolina Engineering Conference & Trade Show on June 26, 2016.  Norris lives in Greenville, SC.
Norris is a graduate of Clemson University where he studied Mechanical Engineering and Economics.  Norris received an award from the American Society of Mechanical Engineers while at Clemson for outstanding contributions to the Mechanical Engineering Department for his activities and service to the program.  Norris also received his MBA from Clemson.
Norris currently is a Senior Design Engineer at Flour in Greenville where he is the Mechanical Department Unit Organization Manager.  He is responsible for leading the process mechanical engineering potion of complex large and small projects.  He works on both international projects and those in North America and Saudi Arabia.
He is an active member in the American Society of Mechanical Engineers, the Project Management Institute, the National Society of Professional Engineers and the South Carolina Society of Professional engineers where he is currently the President of the Piedmont Chapter.   Norris is currently the Treasurer of the SCSPE Educational Foundation.
Norris is also active in his community where he just finished a two year term as a Loaned Executive for the United Way of Greenville.  He volunteers with Meals on Wheels as well.
He is a husband to Jenny and a father to Allie, Libby, and Ella.  In his spare time he enjoys biking, kayaking, camping, playing softball, and spending time with his family.
"Norris is the volunteer's volunteer, and is someone we are glad two have on both the SCSPE Board of Directors as a Chapter President, and as an officer in the SCSPE Educational Foundation.  He's always there to lend a hand," said SCSPE Executive Director, Adam B. Jones.