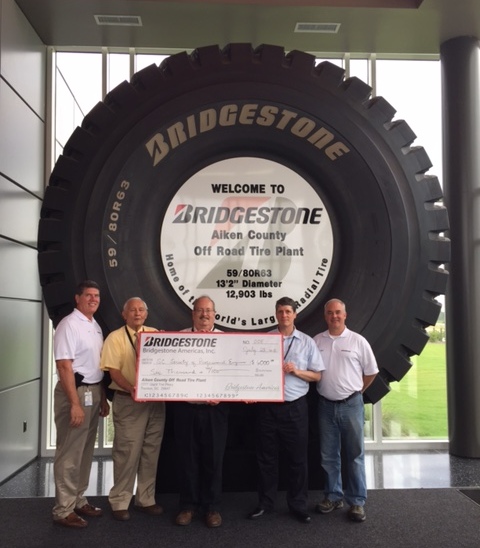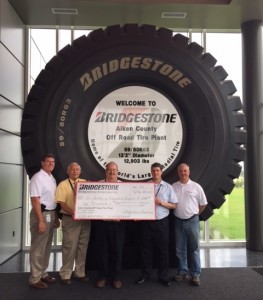 The Bridgestone Off Road Radial Tire Plant presented a check for $6,000 to the South Carolina Society of Professional Engineers (SCSPE), Aiken Chapter to support MATHCOUNTS in Aiken, Allendale, Barnwell, Edgefield, McCormick and Saluda counties.
"The Bridgestone Americas Trust Fund and Bridgestone Aiken Off Road Radial Plant are proud to partner with the South Carolina Society of Professional Engineers and MATHCOUNTS, an organization whose mission aligns with one of the Bridgestone Americas Trust Fund's focus areas: education."
The MATHCOUNTS Foundation mission is to ensure middle school students (grades 6 through 8) learn & maintain excellent math skills. There is an annual school competition in Math consisting of 4 person teams from each school that compete on the local level, can advance to the state competition and then can advance to the National competition. Also, additional contestants can be entered (up to six) if the school desires.
Don Hallman states "SCSPE Aiken accepts this very generous donation for the middle school students in the Aiken Chapter area. This will allow us to reimburse participating schools the cost of team material from the national MATHCOUNTS Foundation so they will not have to find a place in their budget for these costs in order to participate."
On top of the grant to the Aiken Chapter, Bridgestone welcomes the State Competition at its facility and feed all the mathletes, coaches and staff. Thanks to the Aiken Chapter for helping SCSPE and the SCSPE Educational Foundation form this relationship with Bridgestone.