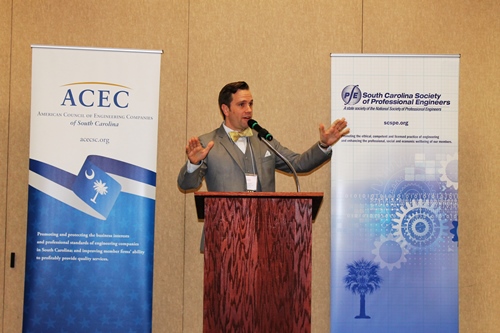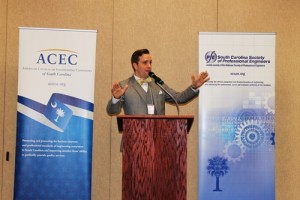 ACEC-SC and SCSPE held another successful annual Winter Meeting February 17, 2016 at Seawell's in Columbia, SC. Attendees earned up to 6 PDHs.
As attendees enjoyed their breakfast, SCSPE Executive Director Adam B. Jones and ACEC-SC Chair Tom Jordan, PE, Davis & Floyd, gave members a brief update of what the groups have been doing since the last membership meeting.
Following these updates, SCDHEC Interim Director of Environmental Affairs, Myra Reese updated attendees on what is going on at DHEC.
After the opening session attendees chose between Mel Lester of the Biz Edge's all-day session "Developing Next Generation Leaders for Sustainable Success," or an environmental track coordinated by ACEC-SC's partnership with DHEC.
Those that choose the environmental track attended the following sessions:
• Monetizing Waste Streams
• Environmental Issues: Round Table Discussion
• Don't Just Stand There, Do Something: Wining Environmental Compliance
• SC'S Dam Safety Program, The flood and Beyond
• Wetland Hydrology: Role of Rainfall vs. Drought Conditions.
The ACEC-SC / SCSPE Winter keynote address was led by SC Department of Commerce's Ford Graham who discussed Economic Development and Environmental Sustainability during lunch.
With 72 attendees at the ACEC-SC / SCSPE Winter meeting this is an event that engineers continue to support. We hope you plan to attend next year.